Archibuilt
Exposition
Solutions to Everyday living
ArchiBuilt is an annual exhibition-forum organized to continually bring to the fore trends, technologies, systems, and policy issues that impact the building industry's intervention and responses to everyday living. This intervention, intended to generate the framework for sustainable solutions, is although championed by architects, broad in its appeal and involvement. Originally midwifed and driven by the Nigerian Institute of Architects (NIA), ArchiBuilt was registered as corporate venture under ArchiBuilt Development Services Limited (ADSL) and has been trading as such since 2012.
Archibuilt E-commerce
We have a store from all our vendors. Its a multi vendor store that allows all our registered members to have the opportunity to upload all there products and services for interested customers.
Visit Store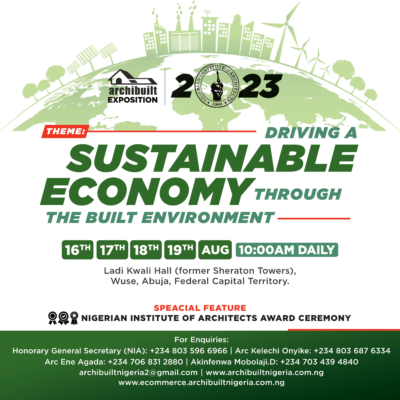 Day 1 Day 1 featured the formal Opening Ceremony which was conductedby the Hon Speaker [...]
Archibuilt Youtube Channel
We have our youtube channel scheduled to serve all our viewers. In this content space we will be highlighting all the essentials of Archibuilt TV. All our pre and post event interviews will be on this channel
Visit our channel