What to Expect?
It is only 5 Days to go and we are ready. We have prepared a very special treat to make this year's event truly memorable.
THE ARCHIBUILT EXPO 2023
This years event will feature over 50 exhibitors and will provide an avenue to network with industry leaders and professionals
THE TRAINING @ ARCHIBUILT
The PMI bootcamp will prepare you for any Professional Certification in Project Management both nationally and internationally. It will run for 3 days both online and offline for a cost of N150,000.
WE HAVE ONLY 5 SEATS LEFT FOR THIS WONDERFUL OPPORTUNITY
It will also feature a special training session on
EXPLORING GENERATIVE AI FOR ARCHITECTURAL DESIGN.
This one-day hands-on workshop is designed to introduce architects and architectural professionals to Generative AI and its practical applications in architectural design. Participants will learn how to leverage AI-powered tools to generate innovate design options, optimize workflows and enhance creative processes.
the costs are: N40,000 (for architects), N65,000 (for non architects), and N15,000 (for students).
Only 10 Seats Left for this revolutionary workshop.
THE SYMPOSIUM @ ARCHIBUILT
Our Symposium this year will feature a fine mix of Technocrats, Professionals and Academics with a depth of insight on our Theme
DRIVING A SUSTAINABLE ECONOMY THROUGH THE BUILT ENVIRONMENT
7 Speakers will feature in various capacities and on various topics namely
His Excellency, Otunba Olufemi Pedro, Former Deputy Governor of Lagos State who will be the Keynote Speaker during the event.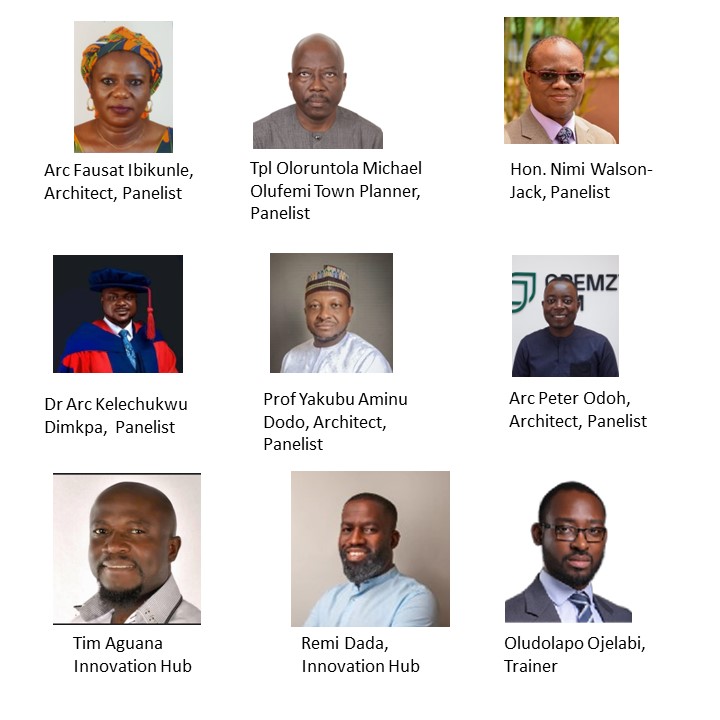 Tpl Michael Olufemi Oloruntola, is a Registered Town Planner and Procurement Professional, who, in his career in the public sector, he has participated in the preparation and delivery of development policies and programmes. He will present on "Smart Cities and Digital Transformations"
Hon. Nimi Walson-Jack, a Management Development Consultant, an accredited Trainer, and Business Development Service Provider is a trained lawyer and criminologist with diverse backgrounds in civic education, human rights , pro-democracy, and civil society activism, as well as a practicing lawyer and academic. He will present as well as participate in a panel discussion on "Affodable Housing and Social Inclusion"
Dr (Arc) Kelechukwu Dimkpa is an accomplished architect and academic with the Rivers State University. He is also the CEO of Smartcity Engineering and Construction Limited, a reputable construction firm based in Portharcourt, and will be sharing insight in "Building Information Modelling and Integrated Project Delivery" as well as contribute to the Panel Discussion.
Professor Yakubu Aminu Dodo is a specialist in the Sustainable Architecture, Green Building Rating Systems, Application of Daylighting in Buildings, Energy Efficiency and Indoor Environmental Quality. his research interests include, Low Carbon Emissions in Buildings, Renewable Energy, and the application of AI both in Buildings and Architectural Education. A Professor of Afrocentric Architecture, his presentation at Archibuilt 2023 will focus on "Resilient Design and Disaster Risk Reduction"
Arc Peter Odoh is an architect, a "Free thinker" and the MD and CEO of Opemzy BIM Consultancy Services Limited. he is also a lecturer at the Department of Architecture University of Nigeria, Nsukka. He has a passion for the adoption of modern work tools for the design and construction industry.
Arc Fausat Ibikunle, a graduate of the prestigious Ahmadu Bello University, and Fellow of the Nigerian Institute of Architects, whose career in Public Service spans a period of 38 years, both as a core civil servant and political appointee. she has served meritoriously in various government agencies including, The Federal Civil Service Commission, Ministry of Defence, Federal Capital Development Authority, and the Kaduna State Government where she served as pioneer Commissioner at the Ministry of Housing and Urban Developments. Her contribution will be in "Affodable Housing and Social Inclusion"
THE INNOVATION HUB @ ARCHIBUILT
The Innovation Hub will be the Crown Jewel of Archibuilt 2023 and will feature the latest technologies in the industry. Participants will experience the reality of the current AI revolution which has forced the Construction Industry to move at warp speed. It will also feature special presentations by
Tim Aguana, a Design Analyst at Toyota specializing in production and innovation design and engineering, and
Remi Dada, the founder and CEO of Spacefinish, a company that designs and builds functional, innovative, and collaborative spaces to foster productivity and efficiency. He will speak on the topic, "Where Design and Technology meet in forging the Future of Value-Centric Architecture.